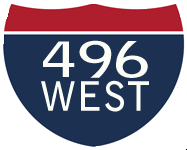 Also visit the band  website at 496West.com
Management and Booking :   BMRW Promotions 517-372-7246 or info@496west.com
496 West is  working on the band's third CD project which is targeted for release late 2016 or spring 2017..
Although performing since 2008, the CD provides many firsts for the band including the group's first full-studio recording, creative collaborations and original songs written by band members.
"The music comes together nicely" says band founder Charlie Wilson.  "Creatively and artistically, it feels good".
 Click link to listen ===> 496 West at the 14th Annual BWL Chili Cook Off ….record crowds in attendance!
*****